BE HEALTHY BERRIEN
Working to build healthier places to live, work, learn, and play in Southwest Michigan.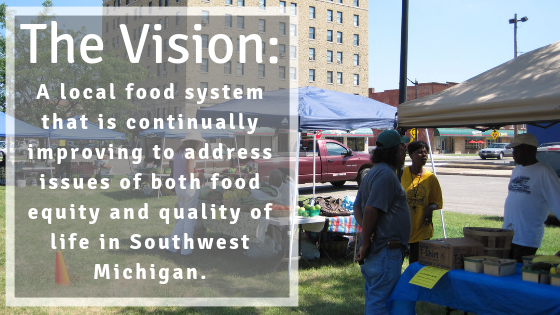 The Southwest Michigan Local Food Council is a collective of advocates that takes evidence-based actions toward the development of an equitable regional food system that values local farmers and entrepreneurs.
About Us
The SWMI Local Food Council is working to build a local food system that fosters a thriving agricultural economy and ensures equitable access to healthy and affordable foods for all. Our membership is made up of local jurisdictions, farmers, nonprofit, organizations, and community members. The group formed because our region includes some of the most remarkable farming conditions and produce found anywhere in the world and we believe that our community deserves access to good food that is grown in a way that respects people and the planet.
Learn more about how the SWMI Local Food Council began and our team HERE.
FOOD for THOUGHT Art Project
FOOD for THOUGHT celebrates community while asking us to think critically about our relationship with food.
During the summer of 2021, the SWMLFC asked four artists to respond creatively to the personal food experiences of visitors at SWMI local farmers markets. Market attendees defined and expressed themselves through their experiences with food, and the artists incorporated the responses into a painting representing that community. The resulting artworks offer an entry point to look across social, economic, and geographic divides and consider the impact of food–and our access, traditions, and relationships surrounding it–on cultural identity. The final art installation is a visual representation of community voice through the lenses and imaginations of local artists.
In July and August, paintings from the project are rotating at farmers markets in Benton Harbor, Lawrence, New Buffalo, and South Haven, leading up to the project's installation in The Lounge at Krasl Art Center (KAC) in St. Joseph in tandem with KAC's upcoming exhibit, Family Dinner: The Deep Connection of American Lived Experience, which runs from September 3 to November 13, 2022.
Food Brand Project
Help us grow & support our Southwest Michigan agriculture!
Southwest Michigan Local Food Council is developing a local food brand. The purpose of the food brand project is to promote the unique qualities that define Southwest Michigan agriculture, including its farmers. Our objective is to catalyze the Southwest Michigan food infrastructure and help grow the local economy.
To learn more about the project, contact [email protected]
Council News
The Southwest Michigan Local Food Council is working with our three Working Groups on strategies to bring our strategic plan to life!
Find Local Food
Our region has a wide variety of great tastes to offer, so come explore all the good ways to eat well in Southwest Michigan and Eat Local Berrien!
Get Involved
We'd love to have you join us! Contact Us to:
Become a partner or a volunteer on a Working Group
Introduce your organization
Start a conversation
Local Food Producer Spotlight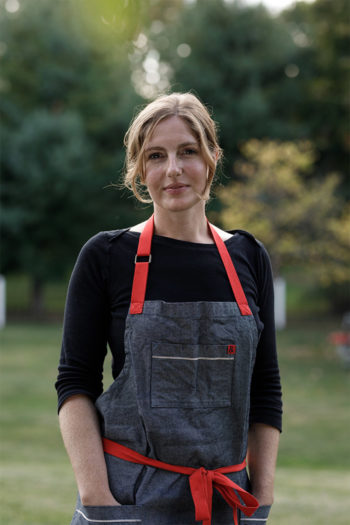 Here in Michigan's great southwest we are lucky to be in a land abundant with farms, among these is Granor Farm, a certified organic produce and grain operation. What makes Granor stand out is not only their commitment to providing fresh, organic, local produce, but their robust outreach model that invites the community to come have memorable experiences on the farm.
Click HERE to meet Abra Berens of Granor Farms!
---